Installation
The case I'm using is my Antec P280, which is an older case, but has worked for me for quite some time. First exterior pictures of the case:
Old internals (including a HPe SmartArray P410 that got removed from use permanently – also, really nice cable management, am I right or what?):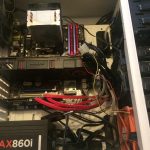 And the internals (after the previous hardware had been removed and dusty as fuck):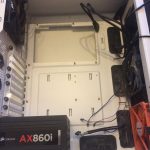 The good thing is, that I didn't have to move any of the motherboard stands, suited perfectly fine moving from Asrock 970 Extreme4 to Asrock x370 Fatal1ty Gaming K4 – this made seating the motherboard a bit faster. The most difficult part on installing the new motherboard was trying to fit my hands above the CPU cooler when putting the screws and cables into place.
A picture after the motherboard was seated into place: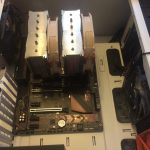 And after reinstalling the R9 290 with doing some cable management: